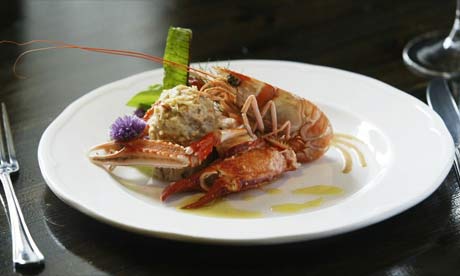 Wine in Devon
Anyone still doubting British viniculture should head to south Devon, where a collection of vineyards around Exeter region have produced a number of respectable tipples over the last few years. The first vintage of Kenton Vineyard's red sold out in a jiffy, and those responsible will be unveiling a brand new sparkling white during the upcoming Devon Wine Week (May 24-June 1). There are plenty of other vineyards nearby that will also be showing off during the festivities, including Pebblebed, whose rosé scooped a gold medal at the English & Welsh Wine awards.
Isle of Wight
A new freebie download at the Wightlink website (the people who run the ferries) offers an excellent round-up of the island's gastronomic highlights. Try following a mix and match of producers and hotel restaurants: chunks of the award-winning Isle of Wight blue cheese at the high-end Hambrough Hotel overlooking Ventnor Bay; or Susannah Seely's Dunsbury lamb at the Priory Bay Hotel.
Outer Hebrides
The range of quality grub on the Outer Hebrides food trail makes the journey to Scotland's wild left flank well worth it. Over the summer months, foodies on bikes are lured from village to village by flaked smoked salmon, award-winning real ales, vanilla tablet and Hebridean oysters. The best of the bunch are collated on the official food trail website, ranging from luxury toffee on the southern tip of the Isle of Barra to black, white and fruit pudding at A&R Morrison, sited at the northern end of Lewis.
Lincolnshire
Each year, Tastes of Lincolnshire send out a crack team of mystery shoppers (lucky things) to sample the best of the region from which a fifth of the country's food derives. Their award winners have just been announced (visitlincolnshire.com/awards), and include top picks for local restaurants, pubs, tearooms and places to stay. Base yourself at Village Limits - a pub, inn and Tastes of Lincolnshire favourite - where the restaurant sources local whitebait and mussels, duck liver pate and Dennetts ice-cream (not on the same plate).
Pembrokeshire
The Pembrokeshire Food Guide, as reproduced on the county's website, is, if anything, a little too comprehensive. Handily, the annotated maps dotted with foodie finds are subdivided regionally, meaning you can decide where you want to stay, then look locally. Our nod goes to the North West map around St David, which includes a trio of spots mentioned in the Good Food Guide 2008. The pick of the three is The Refectory at St Davids, serving fresh mackerel and roast Welsh black beef in the medieval cloisters of the cathedral.